OUR TEAM
President: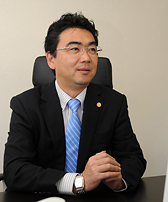 Seiji KATO
President, Patent Attorney
Electronics and Electrical Engineering
B.S., Graduate School of Engineering, Hosei University
Communication Engineering
Member of JPAA
Seiji Kato started his career as an in-house Patent Attorney at Pioneer Corporation, one of the famous electric companies in Japan, where he had worked for 16 years as an engineer for research and development of optical memory disk drive control. In 2002, he joined one of the largest patent firms in Japan, where he became the Director of the Domestic Client Group. Since then, he has been representing several of the well-known Japanese Corporations. He has been handling prosecutions, appeals, expert opinions and consultation including a wide range of inventions such as electronic circuitry, telecommunication systems, semiconductor devices, POS systems, cameras, optical disks, automobiles, medical devices, computer controlled apparatuses, software, networks and business related inventions.
Associates:
Patent engineer (Electrical,Mechanical,Chemical)
Trademark & Design practitioner
Legal Administrators